One of my (informal) resolutions for the New Year is to set foot in fewer stores. Not necessarily because I spend too much money (I'm a Goodwill/Target clearance fanatic!) but because I am beginning to think our house really can't handle any more stuff!!
Less than two years ago we doubled our square footage, and I'd be hard pressed to say we have any more "extra" space than we did before our up-size. We just keep filling it! (...Of course, I am testing out other solutions, too...who's to say a little sorting, donating and re-organizing won't do the trick??)
The truth is I love to find a deal. There is something thrilling to me about rummaging through shelves and piles and racks to find the hidden gems...and even more thrilling is flipping the gems over to find they are $3.99! (I get excited just thinking about it! Can anyone relate??)
So we will see how I do with keeping my resolution...or with finding an alternative solution...and in the mean time I will enjoy the gems I've already found!
Like this little white shelf....
...that I found at Goodwill for $2.99! As soon as I spotted it, I knew it would be coming home with me. It is worn, chipped, and dirty...and useless for anything other than a few simple decorations. But adorned with this nature-inspired Valentine's Day decor, I think it's pretty cozy. Homey. Loveable.
The perfect addition to our Lemon Tree Dwelling.
Must. Stick. With. Resolution.
This will not be easy:)
Thanks for taking a peek inside my Lemon Tree Dwelling!
I hope you feel right at home :)
-Cathy
*Linking up to many wonderful sites this week, including: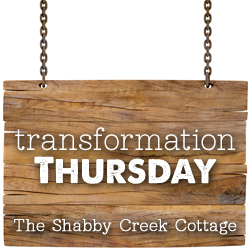 (Post link required)