So I have this wonderful friend Erin. We've known one another since our sophomore year of college, and our friendship has seen its way through 2 marriages, 3 homes, 5 children, countless jobs (mostly hers), a decent amount of coffee (and wine...), and an absolutely insane amount of cell phone minutes. We have had our ups and downs, as all good friendships do, but through it all we have become like sisters. I don't think either one of us could imagine our life without the other one in it.
Erin works full time, so having morning coffee together is a (rare) treat. But one of the wonderful things about her is that, when we do, she always brings me Starbucks! And not just Starbucks coffee, but always some delicious scones or other sweet treats to share. Mmmmmmm.....heavenly :)
When Erin told me she was coming over the other day, I thought it would be nice if I would make something for her for once (A tough decision....because Starbucks really does a great job...:) But I remembered the Gingerbread Cake & Baking Mix I had picked up from Trader Joe's... and I knew what I had to do.
I found a helpful article on the Livestrong website explaining how to convert muffins to scones. I used that as my starting point, and figured it out as I went.
I started by mixing 1/4 cup softened butter into the dry mix:
Then I added 1 beaten egg and 1/4 cup milk:
I mixed it all together, and it didn't quite have the right consistency for scones. So I added 1/2 cup flour to fix the consistency and take away a bit of the "cakey" sweetness. I formed it into a 3/4 inch thick circle, and used a heart-shaped cookie cutter (for Valentine's Day, of course...)
So cute!
I baked them in a 375 oven for 20 minutes...
whipped up an easy lemon glaze...
and...
On a side note, Erin never ended up coming over that morning... but we enjoyed every last scone.
Mmmmmmmmmm...heavenly :)
Gingerbread Scones
1 box (14 oz) Trader Joe's Gingerbread Cake & Baking Mix
1/2 cup flour
1
/4 cup butter, softened
1 egg, beaten
1/4 cup milk
1. Preheat oven to 375. Lightly grease a standard baking sheet.
2. Mix baking mix and flour in a medium bowl.
3. Add butter and mix until crumbly.
4. In a separate small bowl, beat egg and add 1/4 cup milk.
5. Add egg mixture to flour mixture. Mix to create a thick dough, adding additional flour if necessary.
6. Flatten dough to 3/4 inch thick and use cookie cutters to cut into desired shapes.
7. Place on greased baking sheet and bake in preheated oven for 18-20 minutes.
Lemon Glaze
1 cup powdered sugar
3 Tbsp milk
2 tsp lemon juice
Mix to combine. Drizzle over scones (warm or cooled is fine!)
Enjoy!
Thanks for taking a peek inside my Lemon Tree Dwelling!
I hope you feel right at home :)
-Cathy
*Linking up to many wonderful sites this week, including: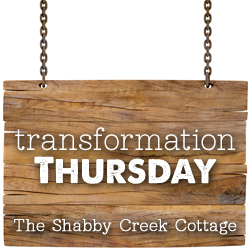 (post link required)